The idea behind the Open Data movement is to make knowledge - in the form of data - publicly and freely available in order to generate value from it. In the case of official data, i.e. government and other administrative information, this means to grant public data access, considering the data protection laws. On the one hand, this creates transparency, strengthening the public confidence in the state. On the other hand, innovation and competition should be promoted in the private sector.
Netcetera supports the Swiss Open Data movement
In Switzerland, the pioneering association Opendata.ch has taken on the issue of open government data. The association is the Swiss chapter of the Open Knowledge Foundation, through which it also is well connected internationally. As a member of OpenData.ch, Netcetera supports the Open Data movement in Switzerland. In addition to their engagement with OpenData.ch, Netcetera now has launched the service data.netcetera.com to support the Swiss developer community with the creation of open government solutions among other things.
Employee project sourced data.netcetera.com
The cornerstone of data.netcetera.com is "OpenData SMN", the first service offering. In a private initiative, Marcel Stör, Senior Software Engineer at Netcetera, has developed this simple API, which accesses data from Meteo Switzerland ("SwissMetNet") and coverts them as a web service for software developers. As an example, the website http://www.wo-scheint-die-sonne.ch (where does the sun shine?) is a result of the data obtained.
Netcetera provides services for the authorities
In order to facilitate the intended added value for the population through open government data, Netcetera regularly supports authorities when implementing such projects. In this regard, a service such as data.netcetera.com is an important addition from which Netcetera not only offers support to authorities, but also ensures that developer initiatives can be taken up easily and the added value of these projects is increased.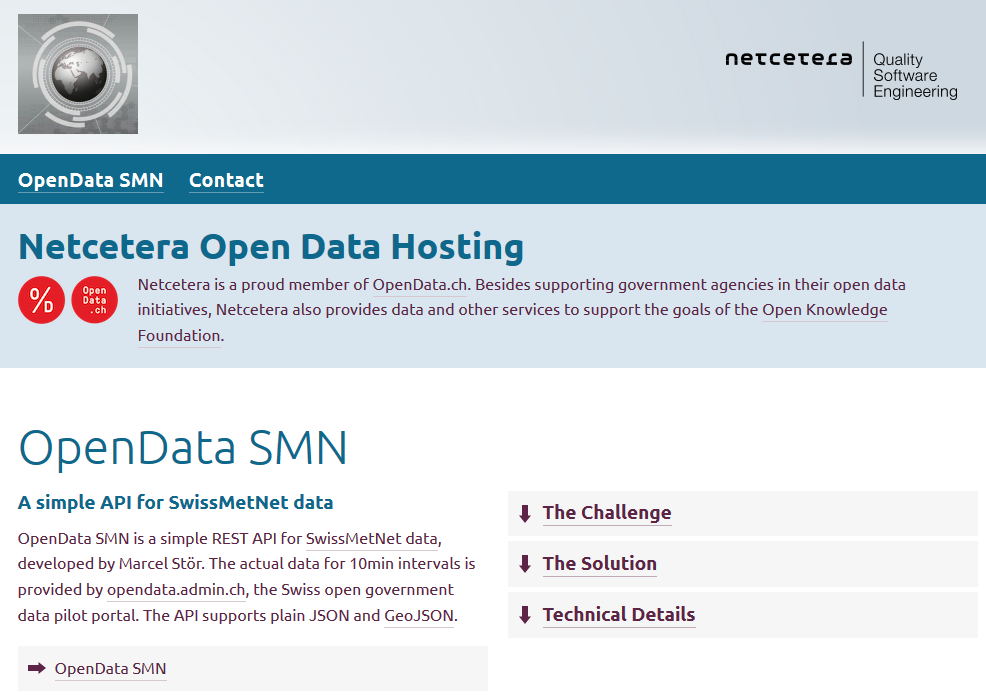 The new online service for the developer community, data.netcetera.com, aims to create value from freely accessible data of the Swiss authorities.