At Netcetera, we strive for personal and professional development. These interviews are a way of bringing Netceterians closer to all of you out there, our future colleagues. This round includes two of our colleagues, Raffael Ioannone & Amelia Zgraggen senior engineers, sharing their personal views on their professional experience.
Your software engineering journey to Netcetera…
Raffael: After my studies at the HSR in Rapperswil and my civilian service, I traveled the world for a year and got to know new countries and their cultures. Back in Switzerland, two friends who work at Netcetera convinced me to apply here.
Amelia: I have worked at a couple of different software companies before joining Netcetera almost 5 years ago as an Engineer in the 3DS Issuing Division. This is my first time working for a Swiss Tech company, and interesting to learn about the Swiss work expectations and Swiss Tech customers.
There is a vast pool of projects within Netcetera. How many have you worked on? Which was the most challenging or exciting one?
Raffael: Since I joined Netcetera, I have been on two projects. In addition, I have two side jobs. The most challenging and, at the same time, most exciting project is my current one. We develop and maintain our highly secure hosting platform for our payment and identity products in this project. The combination of software development and security topics is fascinating and makes the daily routine never dull.
Amelia: I have worked on one of the more extensive Netcetera Product offerings for almost 5 years ad have seen it from 3 different teams and 2 positions. During that time, our Product has more than quadrupled in the number of customers and increased by many times the number of requests we can process daily. It has been fun to see the Product and team grow and to support our customers in helping their customers. Given the scale of the Product, every day brings new developments, incidents, and customer requests.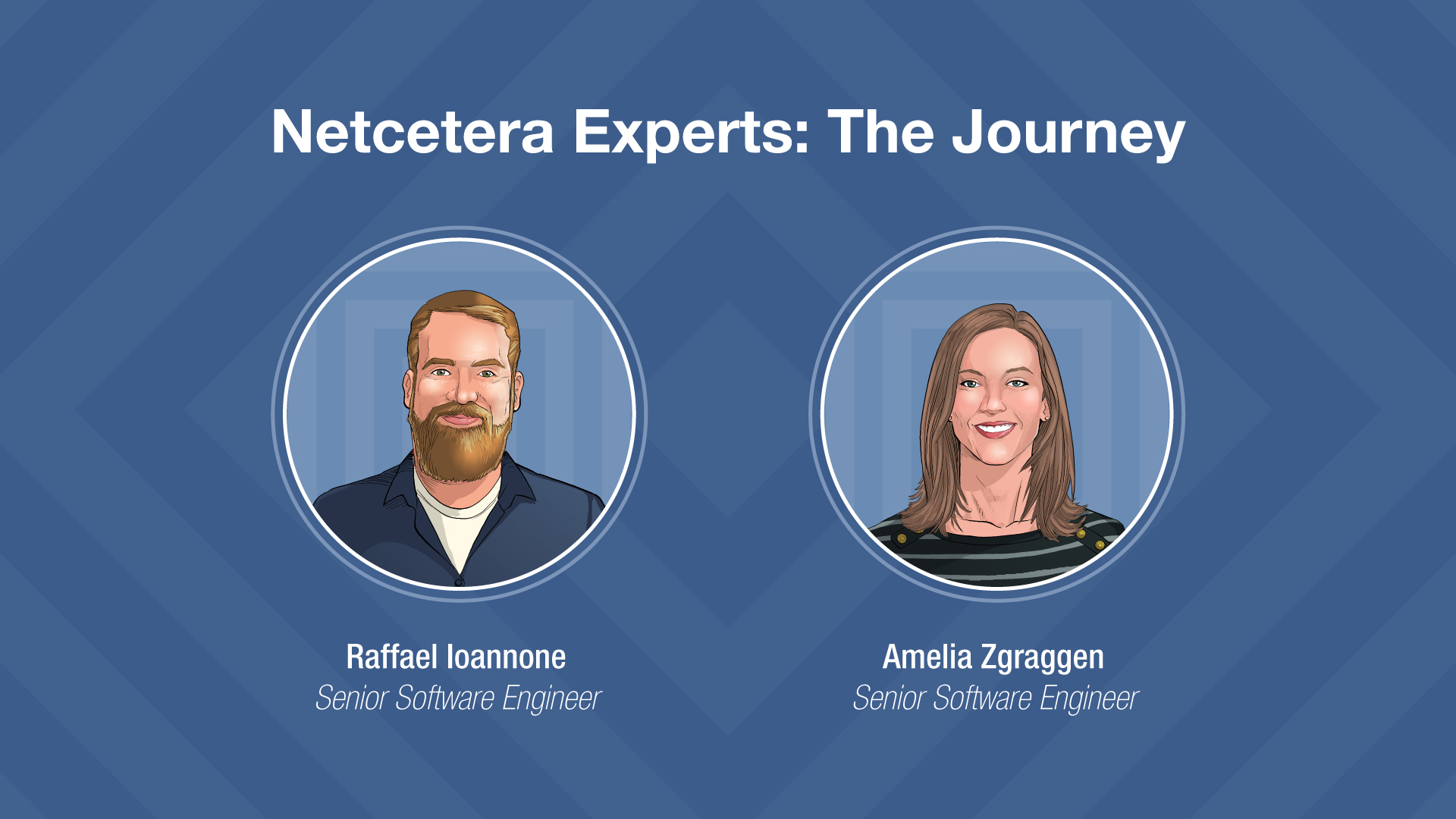 Netcetera has plenty of benefits offered to every Netceterian. What talents and skills you've gained since joining the company?
Raffael: During my studies, I learned to program in Java. But before Netcetera, I hardly knew frameworks like Spring. I have learned a lot about technical topics through practical application and further training in recent years.
Amelia: I have moved from being a senior engineer to being the technical lead for my team. It was a big step and made me work on my estimation skills, project planning skills, and ability to delegate and coordinate work amongst my teammates.
Would you recommend working at Netcetera to a friend? Why?
Amelia: The people I work with are great, and Netcetera offers excellent work flexibility. We have an exciting product and get to help make the online world safer.
Raffael: One of the best things about Netcetera is the people you work with. We have an enjoyable working atmosphere where people support and help each other. You work with colleagues, with whom you can also go out for a drink after work. Especially our smaller locations, such as the office in Winterthur, have a super cohesion. Events like our BBQ or Connect round things off. This is the first time I have seen this at a company of this size.
If this fits my friend's mindset, I'm sure I can get him excited about it 😊.