Most information technology companies are not well-known outside the industry. However, I already knew of Netcetera before I began to pursue the subject. Netcetera are the ones with Wemlin, that real-time timetable app. «Yes, Wemlin is one of Netcetera's babies» tells me Kate, Senior Product Manager for Wemlin. Wemlin has been around since 2009 (so, a relative age for a smartphone app) and, at the time, it was one of the first smartphone apps that Netcetera developed.
Successful experiment
Wemlin is probably one of the most popular apps in the Swiss app store. «At one time or another, everyone inevitably uses public transport in Zurich or Basel,» says Kate, laughing. This involved a positive marketing effect as Netcetera also has brand awareness outside its industry. In the beginning, there was only an app for iOS. Wemlin now runs on all mobile operating systems.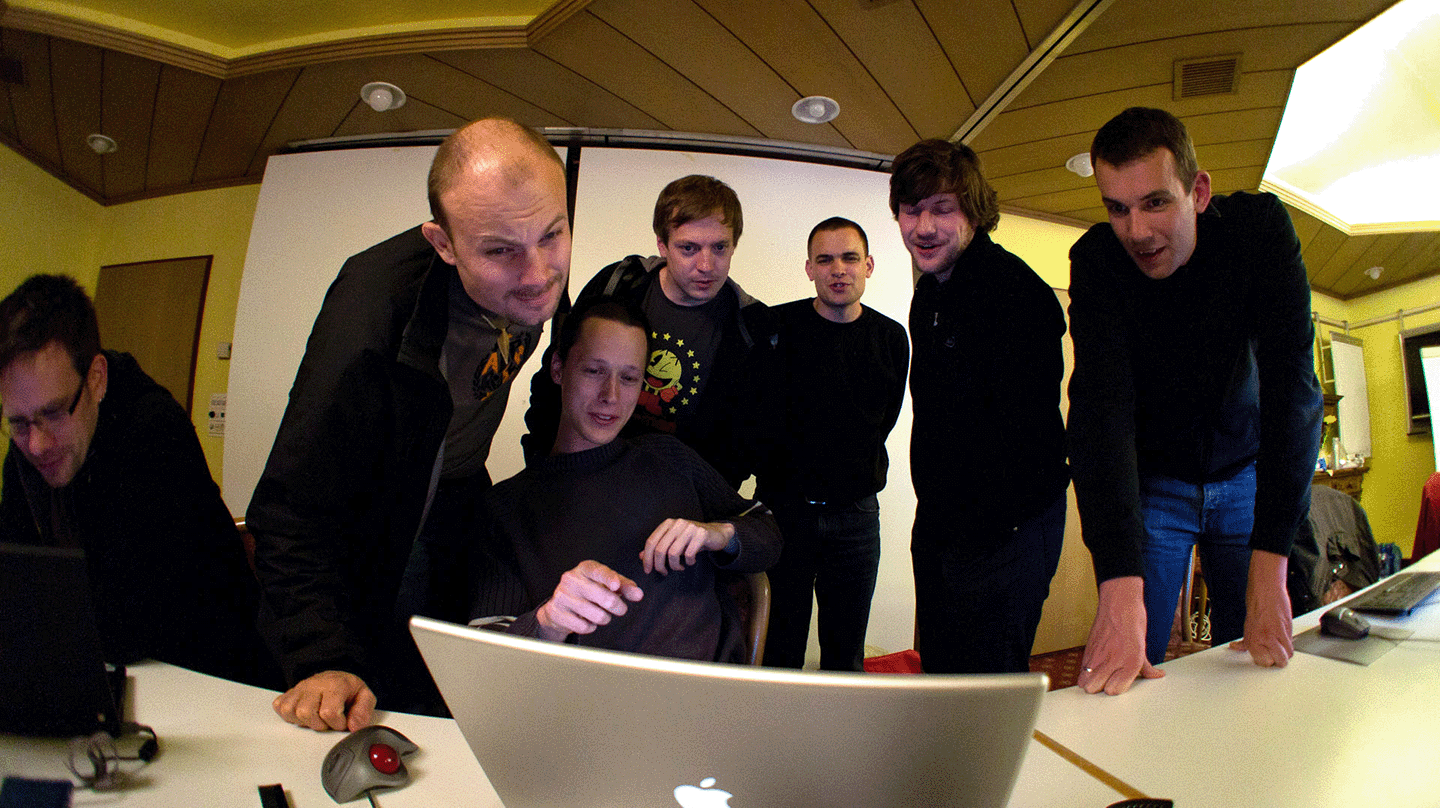 The Wemlin HUB server is its core. All the data goes through it, then it appears on our smartphones. The Ostwind Fare Network (St. Gallen, Thurgau, Appenzell Ausserrhoden and Appenzell Innerrhoden), Switzerland's northwestern tariff authority network (Tarifverbund Nordwestschweiz), Liechtenstein Mobil and Zurich Transportation Network partner with Wemlin. According to Kate, the challenge is connecting to external systems, which means that the data must be generated from different systems so that it can subsequently integrate with Wemlin. This is accompanied by the second major challenge. Netcetera, who normally work with corporate customers, were now in the business to consumer (B2C) environment with completely new challenges. The experiment was successful, but Kate says, «This is the exciting but also the challenging part of my job.»
Taking their time to create quality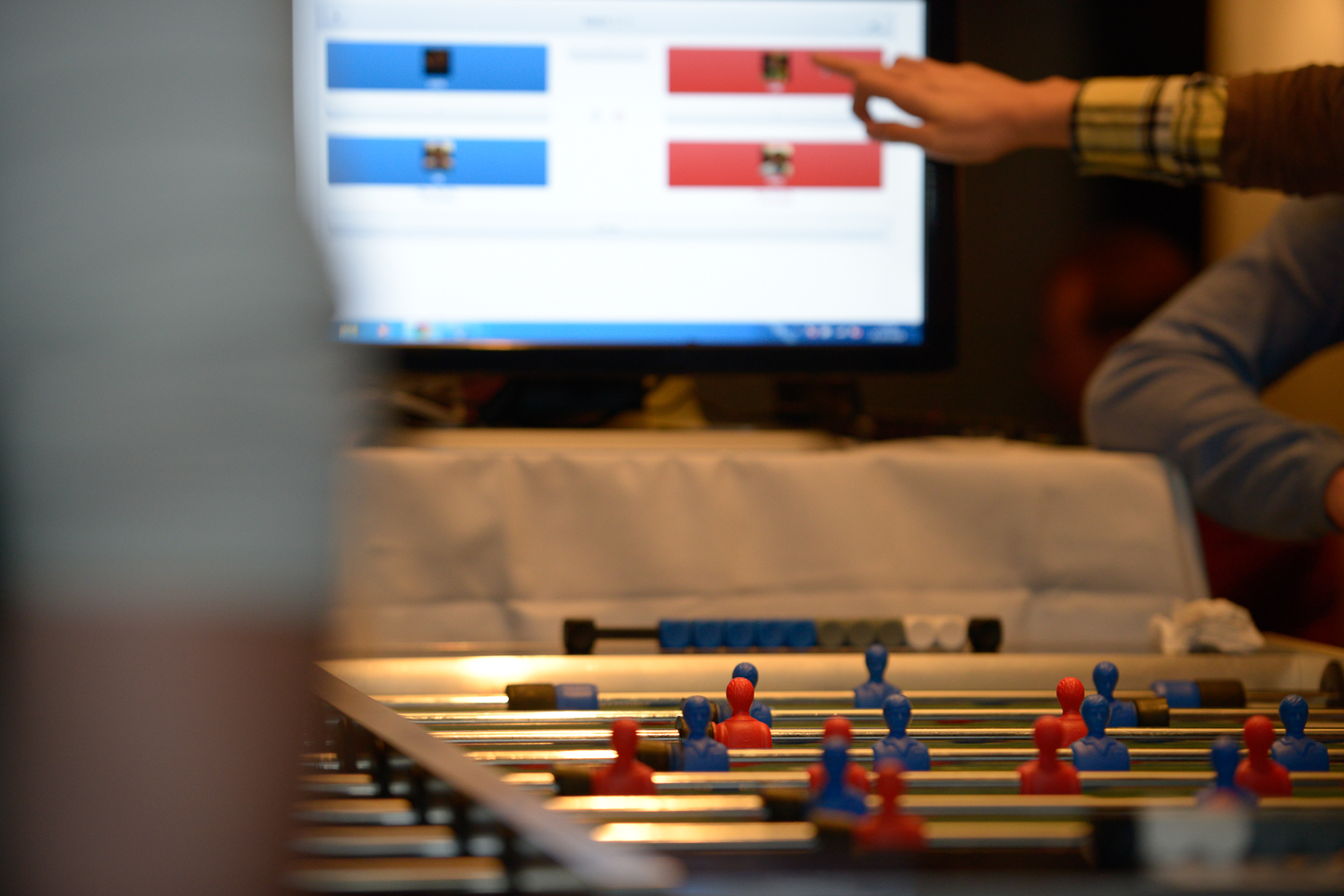 However, Netcetera is far more than just Wemlin. Netcetera is a "team of dedicated professionals" who develop quality software in Liechtenstein, Macedonia, the United Arab Emirates and Switzerland. They take their time to create quality. Both principles are particularly important at Netcetera. «Additionally, you get the opportunity to put your ideas into practice if you have good arguments,» Daniel tells me. Daniel is a perfect example of the fact that the work of an IT specialist does not stop when you leave the office. In his spare time, Daniel has programmed a table soccer app, where the rank and score is displayed.
The idea is obvious since table soccer, also known as foosball, is played fiercely at Netcetera (as it is at many other IT companies). Who always plays in the same team is given the title ʺLone Wolfʺ and people in the shooter position - who do not score any goals - are called "PL", the German abbreviation for project manager, Projektleiter. This is their little internal joke, as supposedly a project manager doesn't work that much.
Actually, the foosball app is a running gag from the Code Camps. Code Camps are events offered by Netcetera for all programmers who want to get involved. For two days, they go to the mountains to work on a project. The foosball app is still private; however Daniel has already tested it at Jazoon, an international software conference (which he helped to organize last year and their logo is emblazoned on his t-shirt). The best table soccer player from Jazoon could eventually play against the foosball world champion.
Anyone who wants to create a foosball ranking only needs to turn to Daniel. I have already tested the app myself. It works very well, but I've been beaten rather badly on the real foosball table. Thankfully I have not worsened the ranking of my teammates Daniel, Christian and Philipp.
Open and transparent
When Daniel is not at the foosball table, he works as a technical project manager for various tasks. He has been working at Netcetera since 2006. He finds his role to be very varied. The ever-changing industries are challenging, but also the exciting part about his job. Like all of the people I have spoken with, he describes Netcetera to me as a very open and transparent company. The lines of communication are short, the hierarchies are flat. You can reach anyone at any time.
«You can even invite the Regional Manager of Macedonia in Skopje to a video conference without a problem,» says Angelika and laughs. Angelika is responsible for internal communications at Netcetera. Her baby is the intranet "Plaza". Although there has been an intranet since Netcetera was founded in 1996, it was «not particularly user friendly and could almost only be operated by developers.» Two and half years ago, salvation came in the form of Plaza.
The name says it all, as you will find everything here that your Netcetera heart desires. The intranet is maintained in English, the company language, because developers in Macedonia and all other locations also use the intranet. Plaza should match the corporate culture, says Angelika. Primarily, this means transparency. Everyone can see everything and anyone can contribute, edit and comment.
Plaza is based on ʺConfluenceʺ software and the wiki principle. It includes a search function that, for example, accesses the file system and the internal database. On the right-hand side you can see a meeting calendar and there is a bazaar offering Netcetera employees mountain bikes, iPhones and much more. The company's intranet is also an overview of the various activities offered by Netcetera. The staff play sports in the nearby gym at Sihlfeld at lunchtime, e.g. volleyball or unihockey.
Lara, a software developer at Netcetera, sees a significant difference in the information flow compared with previous employers. Once a month there is a staff meeting informing everyone about the various projects happening in Netcetera. Lara has been with Netcetera since 2012. The cooperation with the developers in Skopje she finds to be very exciting. There are almost daily video conferences between Netcetera employees. Lara has even been over to Skopje once. The fact that you can sometimes personally meet the people from chat or video is very important. It strengthens cooperation.
Uncomplicated and very pleasant
When asked what skills an employee needs to bring to Netcetera, everyone I've spoken to has answered my question in a similar way. One should be open, sociable, eager to learn, but also interested in technical aspects. They should also have quality awareness and take responsibility. They should be independent and also think outside the box.
And what benefits does the work at Netcetera provide? An unlimited supply of chocolate, fruit, coffee and drinks. A seminar that takes place every two years and brings the whole company together. And, of course, lunchtime in one of the two nearby restaurants that offer lunch for the hungry Netcetera employees in Zurich. One of them is even in the Michelin food guide! (The food tastes excellent at both Cafe Boy and Nachtjäger. I had the pleasure of trying both with the apprentices.)
Netcetera is headquartered in Zurich. The staff work at various locations around Zypressenstrasse. The open-plan offices are elegantly furnished and I'm always amazed how calm it is. As Micaëla, Marketing Communications Manager at Netcetera, gives me a tour of the building, she asks me what my impression of Netcetera is. «Uncomplicated,» I answer. «And very pleasant.»
Go to Laura Leupi's German experience report on IT dreamjobs