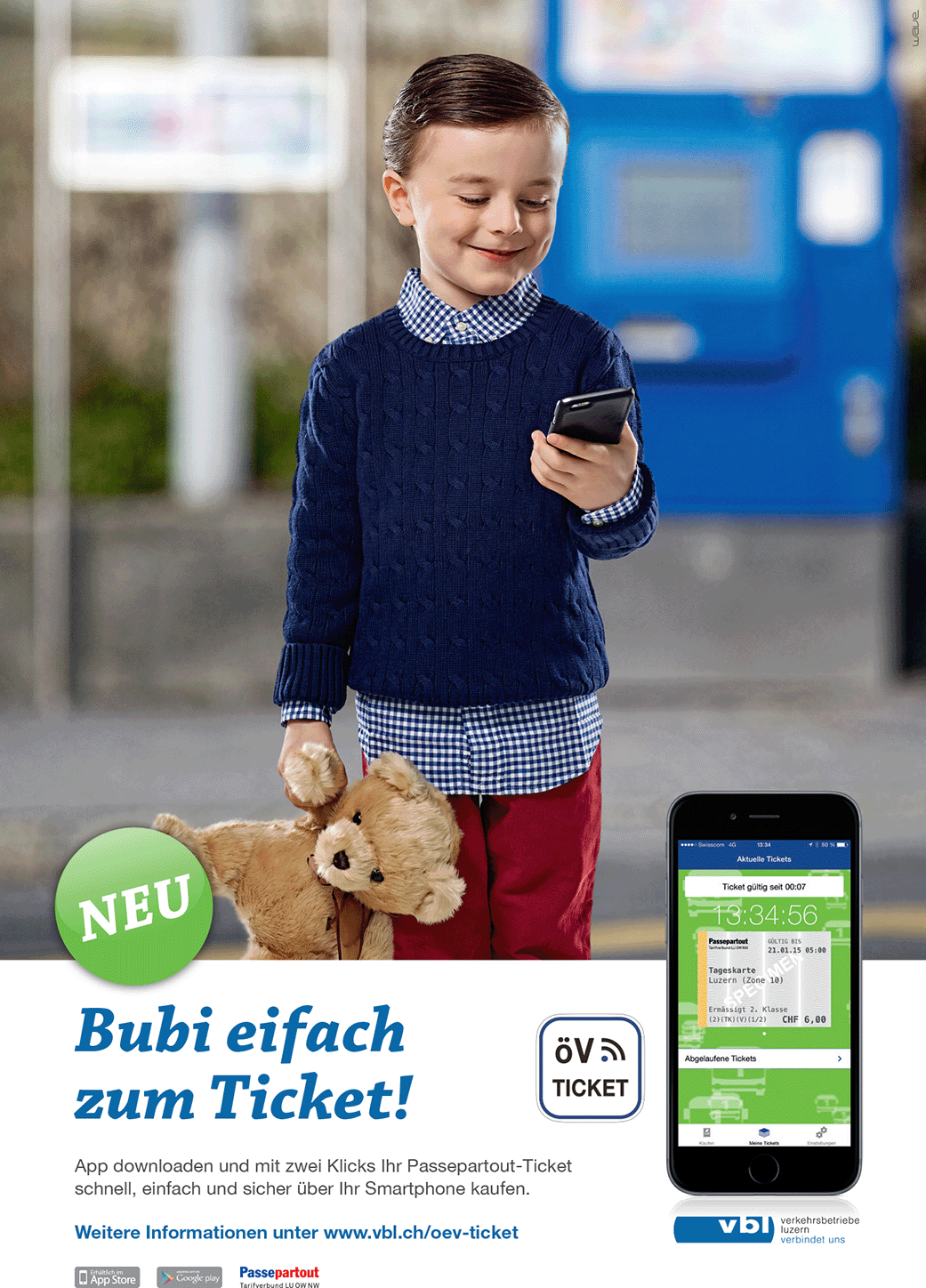 It's never been easier for passengers to purchase tickets. Two clicks is all it takes, and you're ready to go. With the "öV-TICKET" app you can buy short-distance tickets, zone tickets, daily passes and special tickets quickly and reliably everywhere in the Passepartout fare network, with no need for cash.
Tickets for the entire Passepartout network
Over 70% of Swiss residents – about 4.3 million – have a smartphone. Recognizing this potential, vbl decided to make it easier for passengers in the Cantons of Lucerne, Obwalden and Nidwalden to purchase tickets. In cooperation with public transport service providers in the Passepartout fare network, vbl launched the "öV-TICKET" app based on a similar Baselland Transport (BLT) app. The Basel region introduced smartphone ticket purchasing last summer, and it has become very popular there. The mobile ticket solution from vbl is part of Netcetera's Wemlin public transport information system.
öV-TICKET features
The öV-TICKET app "Locate Me" function automatically determines the user's current location and departure stop.
The öV-TICKET app automatically calculates the lowest-cost fare from the departure point to the destination.
All possible connections, including connections via other transport modes, are shown on the app for selection.
With the "Ticket Preferences" function, the ticket options (full fare, half fare, first or second class) can be saved for quick selection.
The "Find locality and stop" function makes it easy for passengers to find their destination stop, even without knowing the zone map.
Up to eight tickets per trip can be purchased, so users can book a journey for the entire family with their smartphone.
Payment is easy and secure with MasterCard, Visa or the Postfinance debit card, and purchasing can also optionally be password protected (as a child lock). After a one-time registration, ticket purchasing is quick and easy.
Receipts are simply sent by e-mail.
Free app download
After you purchase a ticket with the öV-TICKET app, you can see how long it's valid for on your smartphone. The virtual ticket changes color when it expires. This also makes it easy for conductors to see whether passengers have valid tickets. The öV-TICKET app can be downloaded for free from the App Store (iOS) or the Google Play Store (Android). It is available in German, English and French.