We are bringing closer our fellow Netceterian's journeys.
Check out what Vasko Sazdovski and Jugoslav Spirovski have to say about system engineering at Netcetera. They share personal views on their professional experience in the following interview.
Why did you choose a career in System Engineering?
Vasko: I have always been interested in how things work. Since I got my first PC, I wanted to know how we connect to the internet, how to connect to multiple computers in one network, how operating systems work, and so on. Working with large computer systems, vast networks, and different operating systems enabled me to find the answers to all my questions. All this exploring and learning new things encouraged me to choose System Engineering.
Jugoslav: As Vasko, I have always been interested in new technologies and their development since I was little, so I chose to study at the Faculty of Information Technologies. While I was studying, we had the chance to choose whether we will develop as software engineers or infrastructure engineers. As I wasn't into writing code or becoming a software developer, I chose system engineering. Installing, configuring, and building secure and reliable infrastructure has always been much more interesting for me.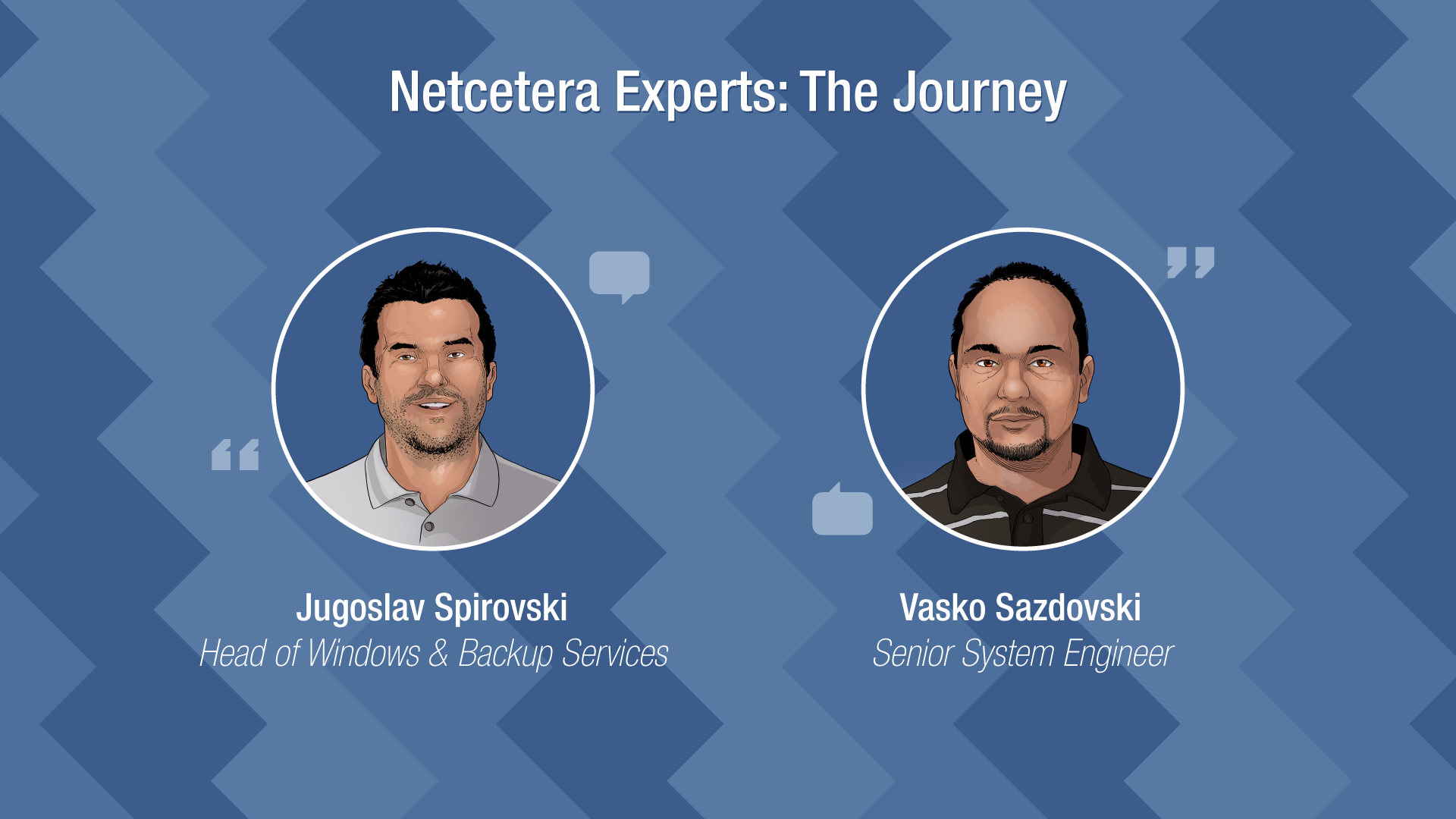 Cross-location collaboration is surely your daily reality. What are the benefits of this?
Jugoslav: Working at Netcetera means working with international teams. Netcetera currently has offices in 19 different locations around the world, so yes, working and collaborating with colleagues from different locations is our daily reality. It is always nice to work with colleagues who are in another location because you are learning new things about their country and the differences and similarities. One also gets to learn about their culture, their working habits and a lot of other interesting things. It is always a pleasure when you go to visit and meet them in person, or they come to visit us. Also, Netcetera is organizing different types of events so colleagues from different locations can meet in person and get to know each other better.
Vasko: While working with colleagues from all around the world, as Jugoslav already mentioned, you learn about different cultures, different lifestyles. One can gain a lot of experience from communicating and working with colleagues, partners, and customers from different locations.
How does Netcetera support your qualification upgrade?
Vasko: Throughout the year we can choose different courses or training, and with these, we learn new technologies and constantly upgrade our knowledge.
Jugoslav: Netcetera continuously supports the development of its employees. Everyone has a budget that is intended for training and conferences and the employees themselves choose what they want to visit or attend. Netcetera encourages employees to go to conferences and education training because only in that way we will improve our skills and knowledge, and Netcetera as a company will have professional and educated teams that will be able to overcome all the challenges that follow.