Netcetera in the United Arab Emirates has developed an iPad app for Lindt & Sprüngli providing mobile business support for the market leader of Swiss chocolate.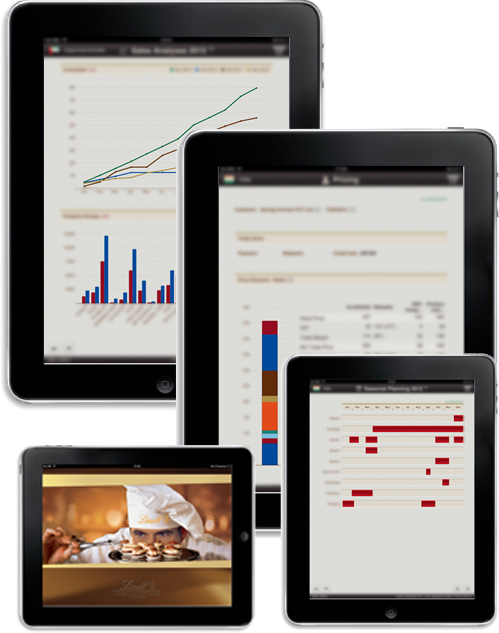 Lindt & Sprüngli is recognized as a market leader for premium quality chocolate, offering a large selection of products in more than 100 countries. Their regional office in Dubai looks after business in the Middle East, Africa and the Indian subcontinent. Third party importers handle the distribution in the individual countries. Lindt & Sprüngli in Dubai monitors their performance, supports them, and reports on their business activities to the main office in Switzerland.

Netcetera in Dubai has developed the iPad application "Lindt2b" which simplifies the planning and daily sales activities in the individual countries by providing mobile support for communication, business and budget reporting between Lindt & Sprüngli's sales managers in Dubai, their importers, partners and the head office in Switzerland. It includes 15 customized reports encompassing sales revenue, inventory status, budgets, market data, product lines and an activity calendar. For an instant overview, custom-built charts present the reports' data, whilst the supporting numbers are only a tap away. All reports can also easily be shared as PDF. The data is administered either manually, imported or fetched directly from external sources. The complete content is available offline at any time in this native iPad app and daily automatic updates are performed over a secure channel, as soon as an Internet connection is available. Additionally, a web-based application is used to manage the data.

"Lindt2b is a big step to synchronize our business with the distribution partners in the region. The app includes all relevant business angles and serves great time for guiding, planning, sharing, following up execution and reporting. Business intelligence was never easier", says Dominic Bolliger, Area Manager Lindt & Sprüngli (Switzerland) AG of the Dubai Regional Office.