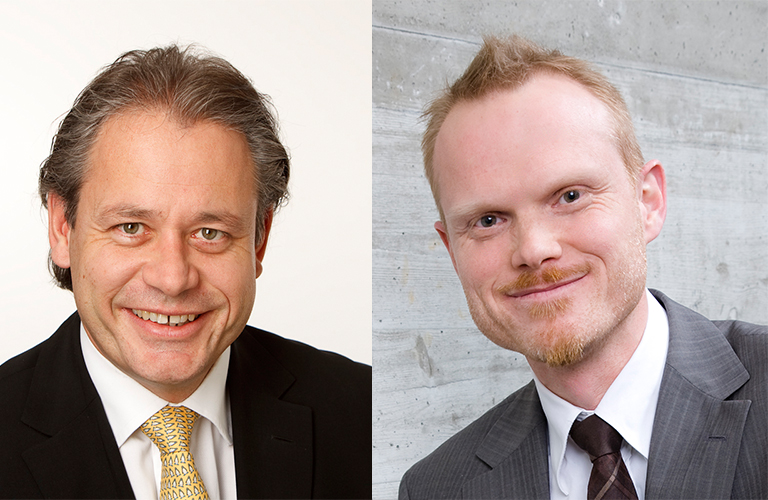 In the past financial year, the Netcetera Group has achieved an annual turnover of over 50 million Swiss francs for the first time in its history. «In 2013, we have again shown that we are a leading Swiss software house,» Andrej Vckovski, CEO of Netcetera, is happy to report. «Our mobile banking product is already used by more than 20 banks, while the online platform, Suisse ePolice, or the new online health portal, Weqaya, in Abu Dhabi, prove our capabilities. A special highlight for me is that we were named the best IT employer in Switzerland last September.»
Thomas Flatt and Joachim Hagger, new to the Board of Directors
At the last general assembly, the enterpreneur Thomas Flatt and Netcetera co-founder Joachim Hagger were elected as new members to the Board of Netcetera Group AG. Joachim Hagger resigned from his operational role at Netcetera at the end of June 2014.
Netcetera hopes to benefit from the ideas of the two new board members and Thomas Flatt's extensive industry knowledge and experience as well as his excellent network. Flatt says: «I will certainly bring my experience in leading similar companies and which were in completely different stages of development. I have experience with start-ups, growing companies, turning companies around and internationals. I am sure I will find a little bit of everything in a diverse company such as Netcetera.» Joachim Hagger is also looking forward to his new role: «I will be taking some time off so I can examine technological innovations and their benefits in other countries and get inspiration for how these innovations can be applied locally.»
About Thomas Flatt
Thomas Flatt is an entrepreneur, consultant and a board director. This follows after his career as a physician, a management consultant at the Boston Consulting Group, as member of the executive committee at Swisscom Group as well as Adecco and, most recently, as board member of Abraxas. He received his doctorate in medical computer science and earned his MBA at INSEAD in Fontainebleau. Thomas Flatt is also president of the industry association, SwissICT, and vice-president of the governing body, ICTswitzerland.
About Joachim Hagger
Joachim Hagger has a degree in physics (ETH Zurich) and co-founded Netcetera. At the Netcetera Group he has held a variety of positions, his most recent being Head of Market & Technology. Joachim Hagger has many years of experience in successful IT services business and in the development of the software industry in Switzerland.